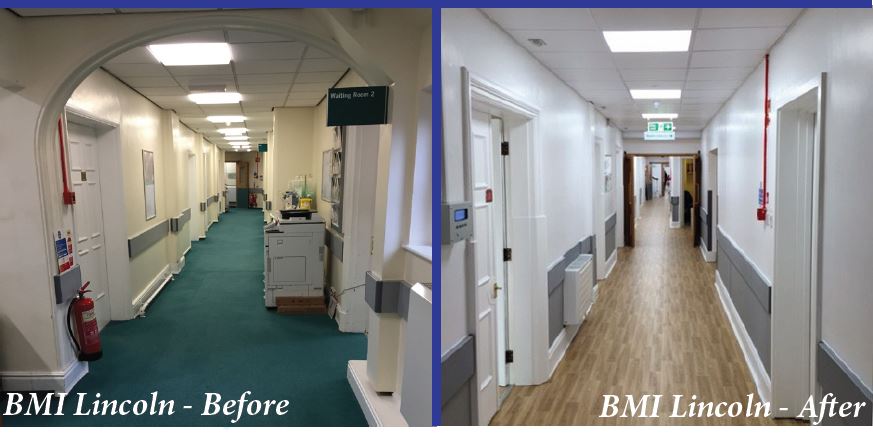 Brief: In December 2015, our client was informed by the Care Quality Commission (CQC) that they intended to undertake a clinical review of all 62 BMI Healthcare Private Hospitals during 2016. As a result, the BMI Huddersfield and the BMI Lincoln Hospitals both received funding for the upgrading of Clinical flooring, Suspended ceilings, LED lighting and the decoration of Corridors, Consulting suites, Waiting rooms and Operating theatres. The aim being to raise aesthetic standards to the BMI 'Look and Feel' standard and to save energy.
Project Value: £ 360,000.00 exc VAT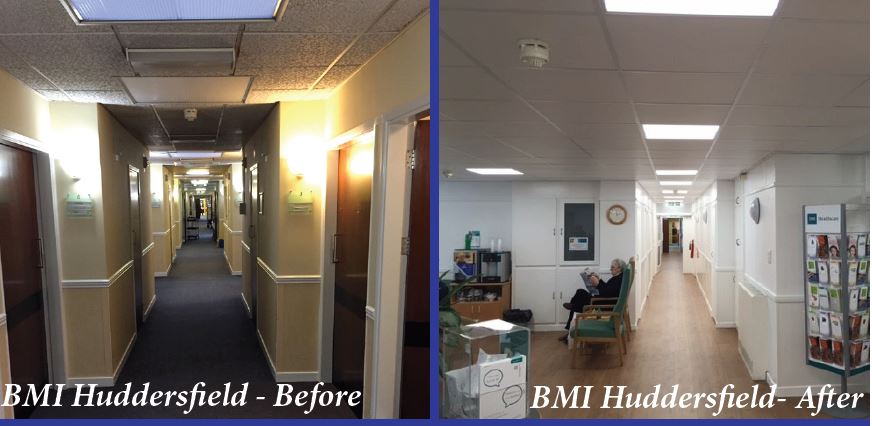 Aim: To raise Aesthetic standards to meet Private patient expectations ahead of forthcoming CQC inspections and ensure a satisfactory CQC rating was achieved at both Hospitals.
Challenge: All works required to be completed within 2 weeks and to be undertaken during the Christmas / New Year Hospital Shutdown, to minimise disruption to site operations and ensure no medical cases were impacted. Also, to ensure costs were tightly controlled as no contingency had been allowed for in the funding of the project.
Solution: UK National were given only 48 hours to view the works required and produce a plan of action along with costs for each element of the works. Work commenced on both sites two days later with a dedicated Project Supervisor on each site to liaise directly with BMI operational management, coordinate all tasks under a PTW system and manage the health and safety risks of multiple activities. The work required close supervision and careful scheduling of all work activities to make most use of the extremely limited time available. Extended shifts also needed to be worked to ensure individual teams remained on schedule to complete the work in time for the Hospital to reopen after the New Year break.
"When staff returned after the Holiday break, it was like walking into a bright new Hospital, they were amazed at how much things had improved in such a small timeframe"
Jill Neasham.
Executive Director,
BMI Huddersfield Hospital